How to check U.S.Visa Status Online?
By support@click2visas.com

1 year
Heyya! Do you plan to visit San Francisco? Are you not sure how to get a Visa? Questions might ring around in your mind. No worries, Click2Visas will guide how to get a visa.
San Francisco is fast becoming one of the most visited cities in, and the reason for this can be easily seen. "The City by the Bay" is a lot of fun over just 7 miles-by-7 miles. With a select mix of neighborhoods, there is truly something for everyone in San Francisco. There is a lot to do, from the rugged beach and the wooded redwood parks to the city's bustling streets.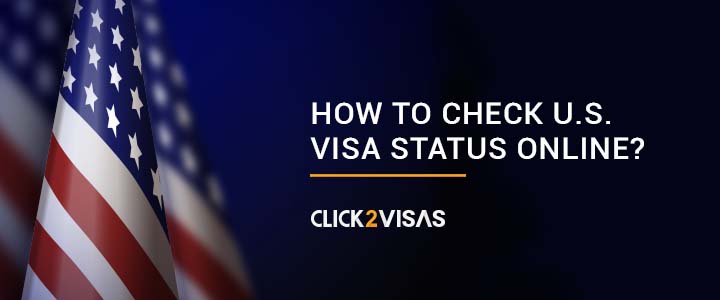 Situated on the sea with rolling hills and the iconic Golden Gate Bridge, San Francisco is one of the beautiful cities in the United States and the jewel of Northern California. The city is rich in history, excellent surroundings, parks, beaches, museums and entertainment options, and things to do.
Alcatraz Island and Fisherman's Wharf are the most popular destinations. However, you have a lot more to visit. San Francisco's Chinatown is the largest and certainly worth a visit in North America. To make your experience more worthwhile, have a look at one of the historic cable cars and tour the city.
These are the highlights of San Francisco; are you very eager to go to San Francisco? You can easily get an ESTA visa via Click2Visas quickly. Let's see how.
What are the Types of U.S.Visa?
Foreign residents wishing to enter the United States must first obtain a Visa; it can be either a non-immigrant visa for temporarily staying or an immigrant visa for permanent residence.
Visitor visas are non-resident visas for persons temporarily seeking to enter the United States for business (Visa type B-1), travel (Visa type B-2), or both purposes (B-1 / B-2). Immigrant visa, Non – Immigrant visa, and ESTA visa.
Click2Visas Procedures:
It is very simple to complete the request. Please follow the below steps carefully:
Choose the departure and arrival country, select the required visa type, and click 'CLICK TO START.'
Verify the visa fee and terms and conditions on the next page.
On the third page, enter your basic details in the respective field and upload the necessary documents (you can upload the documents at a later stage also).
After that, review and confirmed the information of your application form, then proceed with the payment. We support all types of cards for payment.
You will receive the invoice and a confirmation mail with a link in your registered email id.
Click the link and complete the remaining form (you can also upload the document at this stage) and submit it for processing.
Once the ESTA is approved, Click2Visas will send your visa to your email in PDF format.
Overview of U.S.Visa Status:
Non – Immigrant U.S. Visa Status Check:
To verify your non-immigrant U.S. visa status online, you must log in to the Consular Electronic Application Center (CEAC), Consular Affairs Bureau, and the official website of the U.S. State Department at https://ceac.state.gov/CEACStatTracker/Status.aspx.
To find out the status of your U.S. visa online (non-immigrant visa), you need the following information:
Interview location
DS-160 barcode no.
Your visa may be denied or pending for administrative proceedings or under section 214 (b) of the United States INA Act.
Sometimes your visa may be delayed due to these reasons.
Administrative Processing:
You can check the U.S. visa status of your case by log in to the official website of the CEAC.
The information you need to check the status is listed below:
CEAC barcode
Interview location
After entering the information above, you need to click on the option – Check My U.S. Visa Application Status.
If you receive the message that your case is under administrative process, you will be notified if additional information needs to be submitted.
Section 214 (b) of the INA Act:
This will come under Section 214-b of the Immigration and National Law (INA) Act.
Your visa may get delayed because a consular officer processes your U.S. visa application, assuming that you may choose to immigrate to the United States in the future.
Therefore, it is your responsibility to show proof that you are financially strong in the U.K. and have no reason to immigrate to the United States.
The importance of non-immigrant visa interviews is to understand if you have any secret ambitions to immigrate to the United States permanently.
The Consular officer will ask questions based on the personal information you provide with supporting documents such as
Employment letters,
Letters of recommendation, and
Financial statements that act as sources.
No denial under section 214 (b) is irrevocable, and you may reapply if you wish to submit new information.
Immigrant U.S.Visa Status Check:
To check the status of your U.S. visa online, you have to log on to the official website of the (CEAC) of the U.S. Dept of State at the link below:
https://ceac.state.gov/CEACStatTracker/Status.aspx?eQs=o/iS8zDpeAKjMWCuebHqOw
To check the visa status of your U.S. visa online, you need your Immigrant Visa Case Number as in MTL1999626025 (example).
Check your immigration petition status:
To verify the status of your immigration petition, you must log in to the official website of USCIS (U.S. Citizenship and Immigration Services) at: https://egov.uscis.gov/casestatus/landing.do.
To verify the status of your petition, you must have your application receipt number (13 digit number).
ESTA Visa Status Check:
Once we have finished reviewing your ESTA application, you can immediately check the status of your customer login.
As soon as your visa status changes, we will notify you immediately by email.
Note that it may take up to 72 hours for your ESTA application to be officially approved. Until then, the status of "Authorization pending" will be displayed.
So, if you do not get ESTA approval immediately, you don't worry. However, you must apply for your ESTA in a timely manner to avoid time constraints.
Three different messages will be displayed when you check the status of your ESTA. Different ESTA application responses and their meanings:
| | | |
| --- | --- | --- |
| Si.no | Status | Meaning |
| 1. | Authorization approved | Your ESTA application has been authorized. |
| 2. | Travel not authorized | One hour Your ESTA application has been denied. |
| 3. | Authorization pending | Your ESTA visa application has not yet been authorized or denied. |
Do you have any doubts on the given details? No Worries! Click2Visas is ready to help at any time. So, chat your doubts. We will solve that doubts quickly. You know your U.S. visa status, just one message via Click2Visas. Click2Visas will wait to serves 24 hours a day and seven days a week.
Just raise your ESTA application via Click2Visas. We will take care of it. You will receive ESTA quickly. "Be ready and enjoy your Trip."
This publication is provided for general information purposes only and is not intended to cover every aspect of the topics with which it deals. It is not intended to amount to advice on which you should rely. You must obtain professional or specialist advice before taking, or refraining from, any action on the basis of the content in this publication. Through this blog post you are able to link to other websites which are not under the control of FULFILL Holding Pvt limited. We have no control over the nature, content and availability of those sites. The inclusion of any links does not necessarily imply a recommendation or endorse the views expressed within them. The information in this publication does not constitute legal, tax or other professional advice from FULFILL Holding Pvt limited or its affiliates. We make no representations, warranties or guarantees, whether express or implied, that the content in the publication is accurate, complete or up to date.