Are you traveling to the USA? It is time to know about your ESTA Visa Application
By support@click2visas.com

2 years
Hey hi, are you planning to fly to New York? New York City is busy year-round, but during peak tourist times, like the summer months and holidays, hotel prices rise to the peak. If you visit during a less busy season, you'll find much better rates.
New York should be one of the most famous cities in the world. Often referred to as the "Big Apple," this vibrant city is known for its exclusive shops, bright Broadway shows, and high-flying business tycoons, and it has long attracted people from all over the world.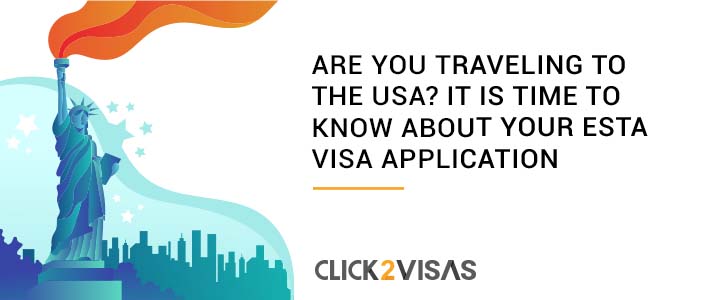 Apart from the flashing lights, it is home to the beloved Statue of Liberty, a symbol of freedom and hope, and Central Park, one of the finest parks in the world.
You can go anywhere in the US. But do you know! Visa is one of the main documents to travel.
Oops! You don't have a visa. No worries! Click2Visas will provide an ESTA. Our service is very safe and reliable. It is very easy to use. Click2Visas has a customized Form in which you will have to enter only the basic details. Our customer care support system experts are available (24/7) via email, chat, and phone.
What is an ESTA?
The (Electronic System for Travel Authorization – ESTA) is a web-based system used to determine the right visitors to the United States.
ESTA is an authorization to enter the United States. The final decision to authorize entry is with customs and border security officials at the point of entry.
Is Electronic System for Travel Authorization compulsory?
Yes. All citizens should have Travel Authorization signed up to the VWP. This program allows citizens of participating countries to visit the US for up to 90 days without a visa. As Britain is such a country, the online ESTA form will have to be completed and approved before you travel to the United States.
Why was ESTA introduced?
The U.S. Department of Homeland Security – set up in the wake of the 9/11 attacks – enforced the ESTA to prevent unwanted citizens of VWP countries from entering the United States.
Currently, the United States welcomes about 50 million people a year from these countries. ESTA is not intended to restrict trade or tourism but to filter out people who are perceived as a security risk to the US homeland.
Who should apply for ESTA?
A citizen or eligible national of a (VWP) Visa Waiver Program country.
If you are presently not in possession of a visitor's visa.
Your trip is for 90 days or fewer.
You plan to trip to the US for business or pleasure.
If you want to apply for a new authorization for one person or a group of applications for two or more persons.
Any person, including infants and children (no regular applications).
What are the documents required for ESTA?
Valid Passport
Applicant's mail address
Applicant's home address and phone number.
Emergency contact: phone and e-mail.
Payment methods:
The fee for an ESTA visa application is 14.00 USD.
Valid payment methods include MasterCard, American Express, Visa, Discover (Diners Club or JCB only), and PayPal.
How do I update my usage information?
Before submitting the ESTA application, you can update all the application data fields. However, once an ESTA visa application is approved, you can only update the following fields:
Email address, information to know: If you change the email address, you will need to verify the new email address.
The US addresses information.
How to fill out a partially completed application?
On the government site, From the ESTA homepage, select "Continue existing application" and then select "Personal application." You will need to retrieve your application by entering your passport number, date of birth, application number or country of residence, passport issuance date, and passport expiration date. Filling in a lengthy application is a stressful process. But, no worries! You only got to enter the basic details. Click2Visas will customize the form accordingly and take care of the rest.
How long is my ESTA valid?
Your ESTA accreditation is usually valid for a maximum of two years (starting from the date you were authorized) or until your passport expires, whichever comes first. This means that as long as you have ESTA approval to travel, you do not have to apply again during the validity period.
If your ESTA expires while in the United States, it will not affect your departure.
Information to know: It is important to print a copy of the document for your records. You will not need the printer when it comes to the United States because the authorities keep the information electronically.
Obtaining ESTA accreditation means you have two years in the US. Under the terms of the VWP, This allows you to travel only to the U.S. Only allows you to stay for 90 days or less. If you plan for more than 90 days to stay, you must get a visa at the nearest Embassy or Consulate.
If you receive a new passport or change your name, gender, or country of residence, you will need to apply for a new travel permit. A fee of USD 14 will be charged for each new application.
Information to know: CBP recommends applying to ESTA at the time of booking your trip, but not less than 72 hours before boarding.
How do I correct a simple mistake in my ESTA visa application?
On the Government site, before submitting the application with the required payment information, you can adjust all the application data fields except the passport number, passport issuing country, and country of residence, and date of birth. If an applicant makes a mistake in their passport or biographical information, he or she must submit a new application.
Key facts about ESTA:
ESTA only applies to travelers arriving in the United States by boat or plane under the VWP.
Only residents of 39 visa-free countries can apply for a travel permit.
If you want to travel through the United States, you must also have proper travel authorization.
First, you can only apply online instead of a visa issued only after a personal visit to a US embassy.
Approved authorization is valid for up to two years after approval.
The electronic system for travel authorization is not a visa – it is a travel authorization.
You cannot check-in without a valid travel authorization authority without a valid travel authorization.
If your application for accreditation is rejected, you will need to apply for a B-1 business visa or B-2 tourist visa (this may take a few months and maybe issued).
How long does it get to process an ESTA visa application?
This is usually up to 72 hours. We recommend that you apply for ESTA before booking your trip.
Click2Visas ESTA visa application Procedures:
It is very simple to complete the request. Please follow the below steps carefully:
Choose the departure and arrival country, select the required visa type, enter your name, and click 'CLICK TO START.'
Verify the visa fee and terms and conditions on the next page.
On the third page, enter your basic details in the respective field and upload the necessary documents (you can upload the documents at a later stage also).
After that, review and confirmed the information of your application form, then proceed with the payment. We support all types of cards for payment.
You will receive the invoice and a confirmation mail with a link in your registered email id.
Click the link and complete the remaining form (you can also upload the document at this stage), and submit it for processing.
After the approval of ESTA, Click2Visas will send your visa to your email in PDF format.
Be ready! Get an ESTA quickly via Click2Visas and visit New York. "Happy Journey."
This publication is provided for general information purposes only and is not intended to cover every aspect of the topics with which it deals. It is not intended to amount to advice on which you should rely. You must obtain professional or specialist advice before taking, or refraining from, any action on the basis of the content in this publication. Through this blog post you are able to link to other websites which are not under the control of FULFILL Holding Pvt limited. We have no control over the nature, content and availability of those sites. The inclusion of any links does not necessarily imply a recommendation or endorse the views expressed within them. The information in this publication does not constitute legal, tax or other professional advice from FULFILL Holding Pvt limited or its affiliates. We make no representations, warranties or guarantees, whether express or implied, that the content in the publication is accurate, complete or up to date.