ESTA Application for Irish nationals
By support@click2visas.com

2 years
It's no surprise that the US has a strong Irish background and is inextricably in link with Ireland. Millions of Irish people from the UK visit the USA each year and love US tourism.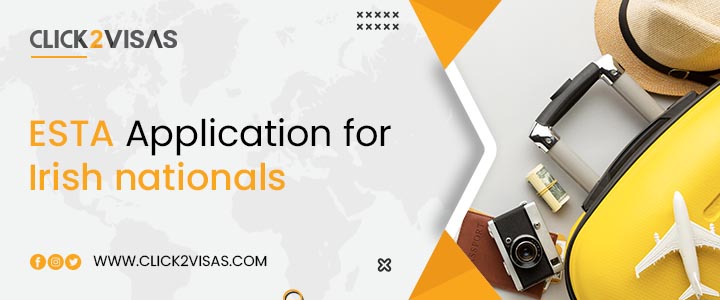 Fortunately, Ireland is one of the nations under the United States Visa Waiver Program (VWP). Its nationals can apply for a travel authorization through the automated US Electronic System for Travel Authorization (ESTA) system. The US ESTA criteria for Irish nationals are straightforward and uncomplicated.
The ESTA is a US online visa waiver that allows you to enter the country numerous times throughout the validity period.
Irish passport holders only need to fill out a simple online application form to receive authorization through ESTA. Irish Travelers from the UK must also meet specific criteria to get an approved ESTA application form for Irish nationals.
In this blog, Click2Visas explains the ESTA application in detail and helps Irish people get US ESTA.
What is a US ESTA application for Irish Citizens?
The US ESTA is designed for Irish nationals who want to enter the US for vacation, transit, or business. The ESTA is valid for up to 90 days in 180 days without acquiring a visa.
The ESTA travel permission is valid for 2 years, or until the related passport expires, and is electronically linked to the applicant's passport.
Irish nationals with a valid visa waiver can enter the United States via commercial flights or cruises, as an ESTA permit is valid for air and sea travel.
Benefits of ESTA for Irish Citizens
Use for up to 90-day visits to the United States.
ESTA application processing time is minimal, and it is easy to complete.
Allows visits to the United States for tourist, business, medical, or transit purposes.
Able to fill in the form online.
Use the same ESTA for numerous travels to the United States.
Your ESTA visa allows you to travel freely throughout the United States. There will be no restrictions on your visa when it comes to traveling to nearly any destination in the United States, including Alaska and Hawaii.
Documents required for a US ESTA application
You will require the following documents to apply for a US ESTA:
Valid Irish Passport.
Bank Credit or Debit card to pay the ESTA cost, which is Euro 7.
Email address.
Once accepted, the ESTA travel permission is connected to the passport used during the application procedure. The Irish holder must use the same passport to travel to the United States.
In case the Irish citizen's passport is lost, stolen, or damaged, the applicant must file for a new US ESTA with a substitute Irish passport.
If the Irish passport to which the ESTA is attached expires within two years, the ESTA will also expire on that date, necessitating a new ESTA application.
If a US ESTA is accepted, the holder will be informed within 24 hours via the email address provided on the application form.
Irish citizens visiting the US with an ESTA travel authorization do not need to show a paper copy. However, it may be useful to print out a copy of the ESTA authorization in case it is needed — airline personnel may request to see a printout before allowing passengers to board the plane.
How to Apply for an ESTA application?
To enter the United States, Irish citizens in the United Kingdom must first complete the easy ESTA application form online.
Send a request to Click2visas: Visit Click2visas and fill out an ESTA application form. We offer a tailored and easy-to-use ESTA form. You must provide your basic information and upload a copy of your passport. Based on the document, we will handle the rest of the ESTA form filling process.
You can pay the ESTA cost online: Instead of worrying about which card to use, you can pay the ESTA cost with any card.
Submit the ESTA request: Finish and complete the request if the payment is successful.
It only requires a few minutes to submit the request. Once we receive your request, we will handle it quickly and deliver your ESTA to your email address as soon as feasible. Click2Visas will send you a notification email after each step. In addition, we will keep you updated on the status of your application.
ESTA Application Tips
Any inaccuracies on an ESTA form could result in refusal or delay in your application. So take great care when filling out your form and double-checking it before submitting it. The earlier you apply, the better, as it will offer you more time to deal with any concerns with your ESTA and re-apply if necessary.
If Irish nationals have already received ESTA authorization, they must renew it in advance of any future trips to the United States. The US ESTA authorization is only valid for 2 years or until the passport expires, whichever comes first.
Irish nationals must reveal any prior arrests (anywhere in the globe) and immigration issues (e.g., refusal of a US visa, denial of entry into the US, and so on) on the ESTA application. If Irish people do not comply, this may be considered as fraud, rendering applicants inadmissible to the United States. As previously stated, Irish nationals should consult with an immigration lawyer about any previous immigration or legal issues and how they may affect their visa applications.
ESTA does not decide whether a passenger is admitted to the United States; this is evaluated by Customs and Border Protection (CBP) agents when the tourist arrives in the United States. The CBP officer may find that the traveler is inadmissible under the VWP or for any other reason under US immigration law. Prior arrests, medical grounds, drug and alcohol troubles, and other factors may all be considered. Travelers who pass through CBP, on the other hand, have officially landed in the United States.
What to do if ESTA application is declined
Any inaccuracies on an ESTA form could result in your application being refused or delayed. So take great care when filling out your form and double-checking it before submitting it. The earlier you apply, the better, as it will offer you more time to deal with any concerns with your ESTA and re-apply if necessary.
ESTA Application with Click2Visas
The Click2Visas service is very secure and adheres to stringent rules. We do not keep or disclose your information to any third parties. We have been in this travel sector for over five years and have enjoyed serving many consumers worldwide.
24/7 customer service.
Call, Mail, and Chat support.
This publication is provided for general information purposes only and is not intended to cover every aspect of the topics with which it deals. It is not intended to amount to advice on which you should rely. You must obtain professional or specialist advice before taking, or refraining from, any action on the basis of the content in this publication. Through this blog post you are able to link to other websites which are not under the control of FULFILL Holding Pvt limited. We have no control over the nature, content and availability of those sites. The inclusion of any links does not necessarily imply a recommendation or endorse the views expressed within them. The information in this publication does not constitute legal, tax or other professional advice from FULFILL Holding Pvt limited or its affiliates. We make no representations, warranties or guarantees, whether express or implied, that the content in the publication is accurate, complete or up to date.